Home > Company Information > Corporate Philosophy / Message from the President
Corporate Philosophy
For any theme involving buildings and the environment, we provide high-value services through the designing activity, and we contribute to the beneficial development of our customers and society as a whole.
Message from the President
As we place the highest importance on "clients, employees, and our society," our aim is to be a "company that is truly needed by society."
Founded by Kisaburo Ito in 1952, in 2014 our company has celebrated 62 years of practice.
Since its founding our company has challenged planning and supervision projects in various genres of architecture; special meaning, however, exists for our company in hospital planning. As part of public hospital repletion through the tuberculosis eradication directive of the GHQ, our first hospital design project was the Tokyo Shakai Hoken Central Hospital. Since this time, as we interpret the needs of our clients we have produced many new challenging hospital designs within the midst of a changing social environment. We have produced many hospital designs to date, and have advance along with the development of Japan's modern hospital system.
As our society ages and experiences a declining birthrate, an increasingly globalized future, and diversification, we always remember the basics to cherish "clients, employees, and our society," and we will continue to work towards a "company that is truly needed by society." We are encouraged to further strengthen our already accumulated knowledge, experience, and reliability, and believe that "hospital designer ITO" will continue to face challenges for any occasion.
January 2015
K.ITO Architects & Engineers Inc.
President & CEO
Yuji Hara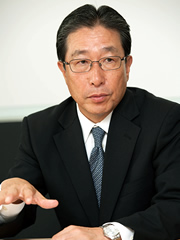 Photo: Bungeishunju Ltd.
Then Meaning of Σ
"Σ" is the symbol mark of K.ITO Architects & Engineers Inc. When Kisaburo Ito founded the company, he pondered the meaning of architecture, architectural design, and design offices as he finally chose this Greek symbol as a company abbreviation.
As you know, "Σ" represents "sum" in mathematics which is used as a determinant symbol; however, in the dawn of the new era of all-powerful science where "architecture is the sum of technology and spirit," it is not just science but the art of "spirit" that was believed was very important. He proudly declared this to employees every time.
Of course, this symbol can represent the sum of all employees as one, and one can sense the existence of all company employees' family as one.